Computer Laser Checks fo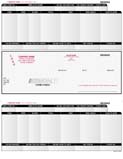 There is an old saying that goes, "You have to spend money to make money." In business, this is especially true. As a business owner, you know that you must regularly put out money to pay your employees, your suppliers and a host of others to keep your enterprise up and running. And, in order to pay these people, you need computer laser checks.
At Form-Masters, business laser check are our business. We are here to supply you with all of the computer laser checks that you need to keep your business operating smoothly and successfully. We have checks to work with all of the most popular business accounting forms software programs - including yours! We offer a wide selection of type faces, backgrounds and security features. Plus, we can even customize your checks with your own camera-ready artwork or logo as well as your business's name and address.
And, while it may be true that you have to spend money to make money, you do not have to spend a great deal of money to get great laser business check, or laser printer checks - at least, not when you order yours from Form-Masters. In fact, you will not find better quality checks at a better price anywhere.
Checks, Laser Forms and More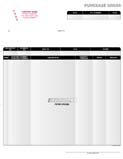 At Form-Masters, we do not just sell checks. In addition, we are also your one-stop online shop for all of the business laser forms, and Quickbooks laser check, that you need to do business properly.
Whether you need invoices, purchase orders, shipping and receiving forms, memo forms, work orders, statements, or any other laser business forms, you can find them right here at Form-Masters. Besides business laser forms, we also provide envelopes, medical forms, tax forms, custom stamps - the list just goes on and on. In all, we offer over 4,500 checks, forms and other items to help you to get your business done right. To find out more about all of our fine products, we invite you to read on through the following Web pages. Then, why not browse through our online catalogue to find the best solutions for your business?