Business Accouting Forms for All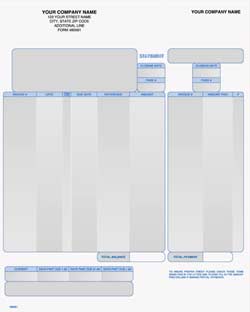 Different businesses operate differently. For instance, there is a big difference between running a dry cleaning establishment and running an automotive repair shop. Operating a landscaping business is not the same as operating a plumbing concern. However, for all of their differences, all businesses have at least one thing in common: accounting. To run any business successfully, it is necessary to keep track of how much money is coming in and how much money is going out. To do this properly, you need business accounting forms. And, here at Form-Masters, we have all of the business accounting forms that you will ever need to run your business smoothly. Whether you require blank accounting forms, accounting forms to print or laser forms, you can find them all right here on the Form-Masters Web site. To sum it up, we are the accounting form specialists.
Accouting Forms to Print, More
Form-Masters is not just the accounting form authority. In addition to accounting forms to print, we sell all of the supplies that you need to do business. We have a huge inventory of business checks, invoices, computer laser checks, work orders, purchase orders, service and repair forms, shipping and receiving forms, self-mailers and envelopes, customized stamps, tags, labels - and much, much more! In fact, you will not find more business goods - for less money - anywhere else. At Form-Masters, we really are the masters.
Save on Blank Accouting Forms
Thanks to Form-Masters, you can stay on top of whether your company is operating in the red or in the black without spending a whole lot of green. We offer deep discounts on blank accounting forms. With quality discount accounting forms from Form-Masters, you will not just be able to keep track of your expenditures. You will also be able to decrease them! To see the selection and the savings for yourself, we invite you to surf through our online catalogue.