WLPSZP2MSTKWH Pressure Seal Mailer - Z-Fold - White - 24lb Laser Check Stock for Hewlett Packard Print-To-Mail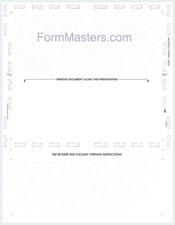 Click image to enlarge


P R O D U C T D E T A I L S
Product Info:
NOTE - This stock is ONLY for Hewlett Packard combination Print-to-Mail machines with special glue lines! For HP machines that print, fold and seal all-in-one.
Z-Fold, 24lb, White pantograph DocuCheck stock with check backer.
Check in the middle with the Security Backer and the two vouchers have a blockout.
Laser Pressure Seal blank check stock.
** This check can be imprinted with your heading and bank information to fit your check computer program layout.
We can also drop in one of our backgrounds and borders.
Call customer service for detail requirements if you would like these imprinted.

P R O D U C T P R I C I N G
| | |
| --- | --- |
| | Parts |
| Quantity | 1 |
| 500 Sheets | 70.00 |
| 1000 Sheets | 102.00 |
| 2000 Sheets | 201.00 |
| 2500 Sheets | 225.00 |
| 3000 Sheets | 269.00 |
| 4000 Sheets | 359.00 |
| 5000 Sheets | 444.00 |
| 7500 Sheets | 553.00 |
| 10000 Sheets | 689.00 |
| 15000 Sheets | 1003.00 |
| 20000 Sheets | 1317.00 |
| 25000 Sheets | 1581.00 |
---