956C_R-199 Pressure Seal Mailer C Fold - Blue-Burgundy Prismatic - 28lb Laser Check Stock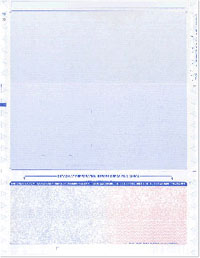 Click image to enlarge


P R O D U C T D E T A I L S
Product Info:
Pressure Seal Mailer C Fold - Blue to Burgundy - 28lb Laser Pressure Seal Prismatic Check Stock 8-1/2" x 11".
This is Pressure Seal Bottom Check stock.
Security features include.
(1) Watermarks that can not be photocopied and will turn blue under a black light.
(2) Fluorescent Fibers that will turn blue under a black light.
(3) Signature Area is printed with a different background than the check and contains the exclusive Knight, Fingerprint wording.
(4) "VOID" Feature on the Amount Line that is printed in a different background from the check and the signature area.
Patented use of multiple background designs produces VOIDS through different density settings of a copier.
(5) Borders on the left & right are unique and interwoven with hidden features that are very difficult to scan or copy.
The Rainbow Prismatic checks have multi-color design with the border being two interwoven colors.
(7) Rainbow Prismatic checks pantograph design are printed with graduated colors that are the most difficult to photocopy and include a VOID copier security feature.
(8) Micro Printing in the line borders and the endorsement that can not be photocopied or scanned.
(9) Heat Sensitive Ink – pink patented thermochromatic ink is printed on the face and back that will disappear at temperatures above 85°.
The patents numbers on the front under the signature area and a warning clause along with the Knight, Fingerprint Security wording and a Fingerprint in the endorsement area on the back are in the Heat Sensitive Ink.
P R O D U C T P R I C I N G
| | |
| --- | --- |
| | Parts |
| Quantity | 1 |
| 500 Sheets | 82.00 |
| 1000 Sheets | 120.00 |
| 2000 Sheets | 234.00 |
| 2500 Sheets | 259.00 |
| 3000 Sheets | 309.00 |
| 4000 Sheets | 414.00 |
| 5000 Sheets | 479.00 |
| 7500 Sheets | 673.00 |
| 10000 Sheets | 823.00 |
| 15000 Sheets | 1212.00 |
| 20000 Sheets | 1586.00 |
| 25000 Sheets | 1926.00 |
---