TF2134 1099 Miscellneous Income Self-Mailer Continuous Tax Forms - Carbon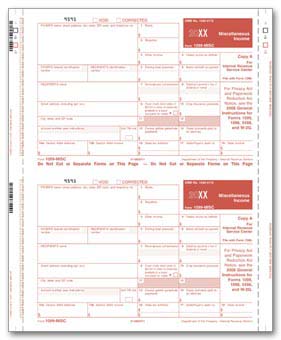 Click image to enlarge


P R O D U C T D E T A I L S
Product Info:
1099 Miscellaneous Income Self-Mailer Continuous Tax Form.
Save time! Pre-sealed confidential envelope with recipient's copy enclosed makes it easy.
Just print, stamp and mail.
Outside: Copy C.
Inside: Copy B.
Two 1099 forms per sheet.
For printers that accommodate 9" wide forms.
Product construction: Continuous.
Carbon/Carbonless: CARBON.
P R O D U C T P R I C I N G
Parts
Quantity
2
3
4
5
25 Sets
22.00
27.00
34.00
37.00
50 Sets
36.00
39.00
47.00
46.00
100 Sets
49.00
51.00
53.00
60.00
200 Sets
66.00
68.00
72.00
94.00
300 Sets
97.00
89.00
108.00
121.00
400 Sets
114.00
119.00
135.00
161.00
500 Sets
140.00
148.00
168.00
200.00
750 Sets
190.00
216.00
247.00
268.00
1000 Sets
245.00
288.00
323.00
357.00
2000 Sets
488.00
538.00
625.00
578.00
3000 Sets
733.00
804.00
947.00
828.00
4000 Sets
977.00
1072.00
1251.00
1078.00
5000 Sets
1227.00
1340.00
1477.00
1310.00
---